Hey there My Buttons!
I'm super sorry for my extended absence! I started a super fabulous new job and I've been running around like crazy trying to learn everything I can about my position, the company, and our products. But more on that later. I've been gone for so long I feel like you all deserve a DIY that's full of glitter!
A little background info: My boss invited me to a charity fashion show. Naturally I was super jazzed about the whole thing. When I randomly walked into Urban Outfitters (am I the only one who thinks their stuff has been on par with Forever 41 lately? Blegh.) I found the most amazeballs dress by Cooperative:
This isn't me but I don't have a full body pic of me in the dress. I'd take one now but I have a major food baby. Photo courtesy UrbanOutfitters.com.

My only problem was which shoes to wear. The dress is navy so black was for sure a no-go. I had a pair of meh aubergine faux croco heels but they were peep toes. Being Colorado and knowing it could be snowing and -20 degrees, I thought closed toed shoes and tights would be a better bet. Unforch, I didn't have anything that would work. So I did what I usually do when I need something but can't find or afford: I made something old into something new! I know I'm not the first person to cover shoes in glitter but keep reading, k? I ran into some issues so keep reading.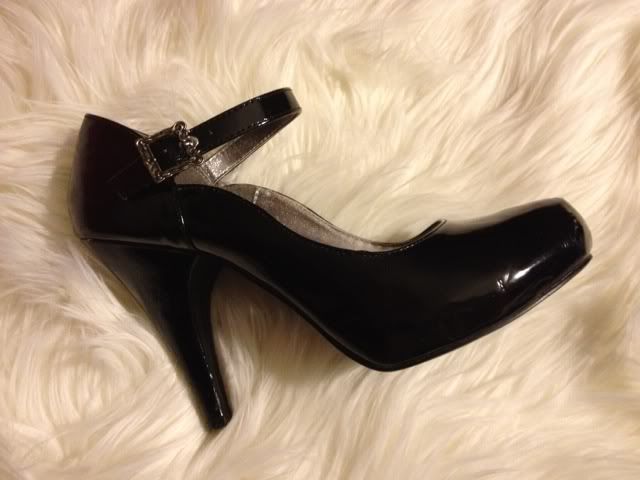 Start with so-so cheapey shoes you don't mind being glitterfied. Mine were some $30 faux patent platforms from Delias.
Use masking tape to cover any parts you don't want to sparkle. I covered the straps and buckle. More on that later.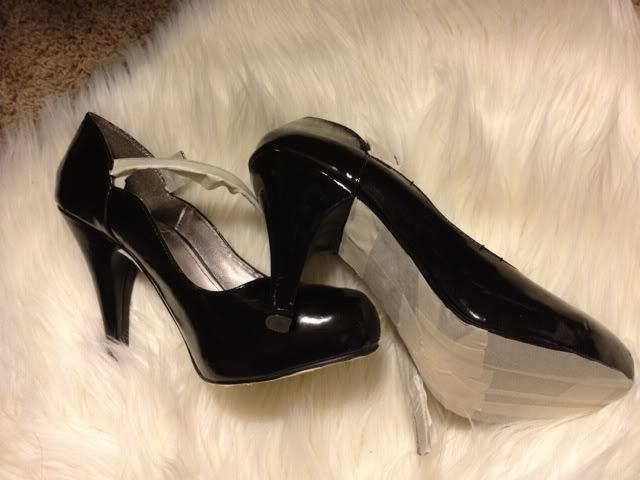 I started with Tulip Shimmer Fabric Paint and a paint brush. It was ok but didn't really SPARKLE sparkle. But it was on sale for $3.49 and created a nice base coat so I give it a C+.
Coat 1 of 6 begins...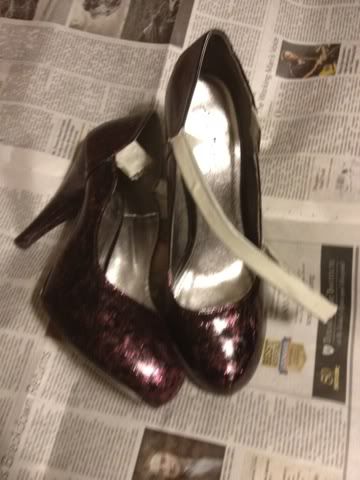 1 coat didn't do much (sorry for the blurry photo).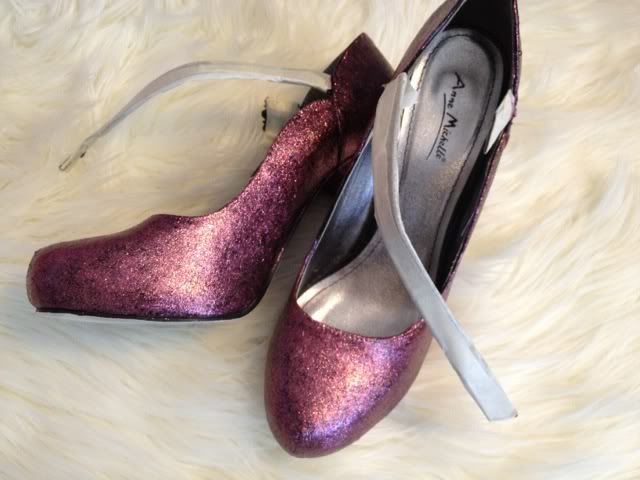 The glitter glue alone left the shoes with a subtle and understated glow. I almost went with it but decided the dress deserved more sparkle ;)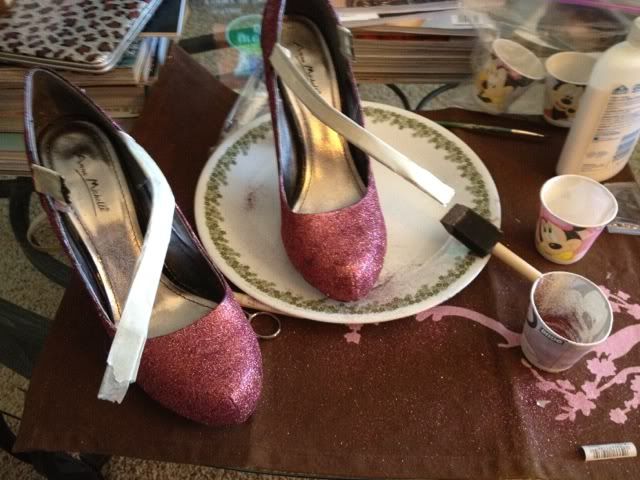 So off I went with a mixture of orange, pink, and gold glitter and Elmer's glue mixed with a little water. I sponged on a little glue then sprinkled glitter a little at a time. Side note: Half way through my project I started to run out of glitter and tried to add other colors of glitter to create an ombre effect. It didn't really turn out ombre but honestly I'm just glad I had enough glitter to finish!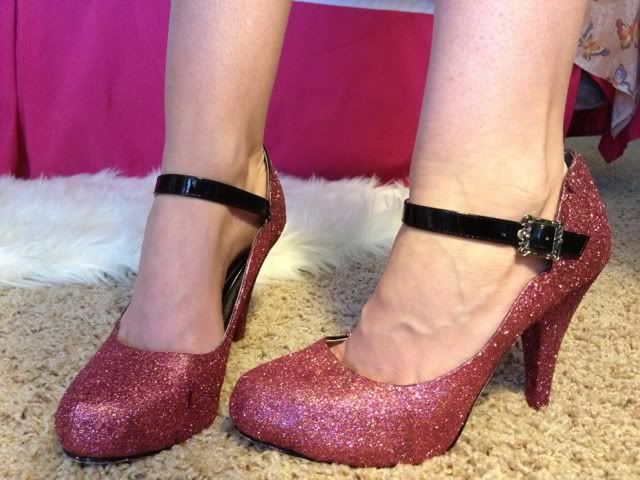 Voila! From black patent to orange-pink sparkles! I left the straps and buckle as is because the buckle would have worn off the glitter making the shoes look ick. Overall, they were a huge hit! I got dressed at work on Friday and when I went into the office Saturday morning, I was able to follow a glitter trail from the door to my desk!
Overall, I wouldn't recommend the Tulip Shimmer Fabric Paint for shoes. It just wasn't sparkly enough for me. And just one note of caution: No matter how careful you are, you're going to end up with glitter EVERYWHERE. I love it, though, because you know I'm all about the sparkle! Have fun covering your accessories (and everything else you own) in glitter!
Melissa, The Shop Therapist