Since my last post on interview attire was quite popular (yay!) here's a follow-up post on women's suiting. In my nearly 10 years of working at a certain retail store and 8 years of working in various office settings as an intern and full-time employee, I learned the importance of a high-quality, well-tailored suit -- both on a man and on a woman. For some reason, women seem to have more trouble finding a suit that's flattering and appropriate. So this post is for you, ladies. Here are my rules for finding your first suit that will not only get you the job, but will quite possibly get you a promotion too:
- Take this shopping trip seriously. Treat it like you're shopping for a new pair of jeans (which in my opinion is second only to wedding dress shopping). Be prepared to go to a few stores, spend what you feel is an exorbitant amount of money, and try on numerous fits and styles. Certain stores are notorious for pushing cheap, unflattering suits. I won't name names, but here's a simple rule: If you can buy club wear at the same store, you probably shouldn't be shopping for your first suit there. Here are my favorite suiting destinations:
Also check out places like Talbots (I know, but don't laugh. They can have some good wool suiting.), Ann Taylor (not my favorite store, but they can have some great sales and promos.), and higher-end department stores like Nordstrom, Bloomingdale's, Saks, and Neiman's.
- Absolutely positively DO NOT buy a suit that is made out of any type of cheap synthetic or blended fabric. The reason why men's suits tend to look more polished and professional? Wool. Don't think wool as in itchy lambs wool. Suiting wool is soft, comfy, and the perfect material for a suit. For some terrible reason, "designers" (and I use that term loosely here) feel like it's ok to make women's suiting using blended fabrics. These suits inevitably end up looking cheap, fitting poorly, and wrinkling. Unless you're willing to spend $1,000 on a designer suit made with a blend, go with a suit that's at least 95% wool.
Duchesses don't wear synthetic fabric. Prince Harry agrees.
- Go with black or gray. If this is your first suit, go with a neutral color (I would add navy to the list but it's hard to find a women's suit that's a good shade of navy). Going with a neutral rather than a stripe, plaid, or other color will allow you to wear your suit to a second interview without anyone knowing you're wearing the same suit twice. You can mix it up with different shoes, a blouse, and accessories and create an entirely new look. Once you get the job and need to build your suit collection, then you can branch out into different colors, styles, trends, etc. For now, go for a classic suit that will still work next year.
- Find a good tailor. There's little use in an ill fitting expensive suit. A tailor will turn your fancy new suit into an investment that will last you a few years. Remember that everyone is shaped a little differently. It just makes sense that this important piece of clothing should be fit to your exact measurements. The $10-50 spent on tailoring will be more than worth it in the long run. Bigger stores usually have a tailor they work with so don't be afraid to ask the sales associate helping you out.
Here's a cheat sheet: (Jacket) The lapel should lie flat, the buttons should close comfortably around the bust (side note: Never button the bottom button of a 3-button blazer), the shoulders should end where your shoulders end, and the sleeves should hit at the base of the thumb. (Pants) The waist band should be mid-to-high rise (no low rise crack flashers. Ew.), there shouldn't be any puckering at the hips, and the pants should be just long enough to almost cover your shoe. Any longer and you'll look like a girl in her mom's suit. Any shorter and you'll look like a doofus. (Skirt) Think back to high school: no shorter than 2" above the knee. Don't go too long, either. You don't want to look like a dowdy old lady. The same fit rules apply: Go a size up if you're having fit issues then have your tailor make it fit to perfection!
Photo courtesy glamour.com (ps their Dos and Don'ts are seriously awesome)
- Keep it classy. No boobs, no belly, no butt crack. Wear a blouse that doesn't gape, isn't low-cut, and isn't tight.
The spandex rule applies to your blouse, too.
Stick with cotton, silk, or any other natural fibers.
This is neither the time nor the place for club wear. Also, if you're a lady opting for a suit skirt, stay just above or just below the knee. Basically, cover it up. And omg shoes! NO HIGHER THAN 3 INCHES! This is neither the time nor the place to show off your new sky high YSL's.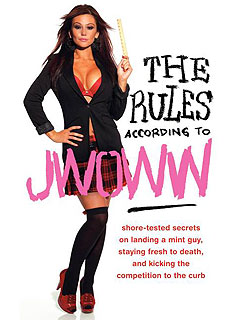 Don't follow her rules. Ever.
(A side note on natural fibers: they breathe! I don't know about you guys, but when I'm interviewing, I get the flop sweats even if I'm not nervous. Cotton and silk help with the nervous icks by keeping you a bit cooler.)
- Snip the back vents. One of my biggest pet peeves is seeing that little "X" on the back of someone's suit jacket or skirt. Pockets can stay sewn shut, vents cannot. The vents and pockets are stitched closed so they lay flat during shipping. Once you get your suit home, ax the X. Keeping the pockets stitched closed helps the pants lay flat. You can carefully open them with a seam ripper -- it's up to you.
Ok, sorry if I sounded like your mom but your shop therapist is here to look out for you. Spend all that you can on your first suit. Your bank account may suffer now, but it will thank you in the long run. And if you can swing it, buy the pants and matching skirt. You'll be able to get more bang for your buck. Just remember quality and fit and you'll find a classic suit that will boost your confidence allowing your fabulous self to shine!
xoxo,
Melissa, The Shop Therapist