I'm finally back into the blogging groove after feeling a bit out of it for the past week. I hope you all are enjoying my slice of the Internets! I feel like I'm gaining a following slowly but surely :) If there's something you would like to discuss with your Shop Therapist, drop me a line via email, Twitter, Facebook, Chictopia, etc.!
On to today's discussion. With Christmas fast approaching and Thanksgiving now just a belly full of memories, I can't help but think of my Granny. She passed away in April and I miss her dearly. Although I knew her as a sweat suit and tennies wearing lady, she was quite the fashionista back in the day. While packing up her house, my mom and I found some amazingly fashionable and fabulous treasures (we called everything we found a "treasure" – Even the old and tattered train case that now holds all of my nail polish).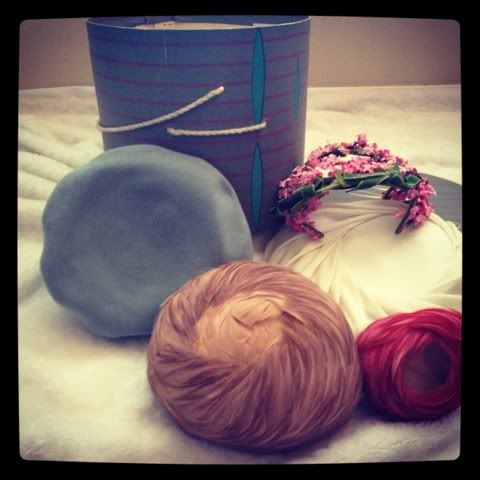 My Granny's Treasures
In the back of her closet, Granny kept some of the most amazing treasures: Her hats. I've always been a hat person (even though my noggin falls into the manly-sized category).
Among the hats was a white "fascinator" style hat, a pale pink pillbox hat, a floral Grecian-esque wreath-like thing (I've never seen anything like it. It's not quite a hat but not quite a headband. It's basically just a piece of fabulous), a fuchsia feather headband, and a blue felt beret-style "every day" hat.
My Granny loved to host and attend parties and was a member of the same church for over 50 years, so I think that's why she accumulated some of these amazing hats. Unfortunately, only two have any type of tag: The floral wreath/cap/thing is from May D&F (now Macy's). The feather headband/headpiece has a "Made in Western Germany" tag – So both are pretty old, obvi. And I apologize for the quality of the iPhone self-portraits. One of these days I'll post better shots of each hat -- Along with one of the fascinator with it actually staying on my head.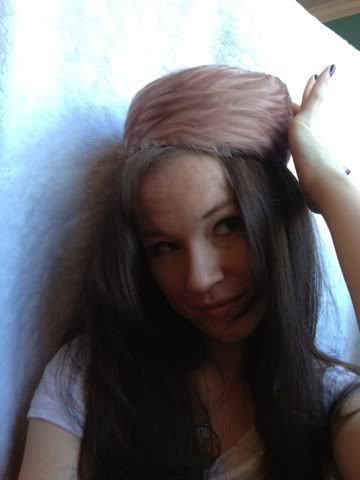 Feather pill-box hat
Impossible-to-photograph-
by-myself floral headpiece
Feather headband/headpiece
Although I never pictured my Granny and Grandpa attending Mad Men-style parties, these hats give me a small glimpse of what life in the 50's and 60's must have been like in their funky little house in the Italian immigrant section of Denver's Highlands neighborhood. Unfortunately, I haven't come across any pictures of her in these hats, but I know she would be happy to know that they are among my most prized possessions. She was an amazing lady and I hope I'm making her proud.
I need some help with the fascinator, though.
I think I'll need a few dozen bobby pins
and a wind-free day for this one's debut ;)
To all of my little lovelies out there, call your grandma and tell her how much she means to you. That's your homework for this week ;)
Melissa, The Shop Therapist