Oh heeeeey!
So I started writing a New Girl post about the Christmas episode and quickly realized other bloggers have beat me to the punch (and put in way more effort than I would have).
Instead, I'm going to give my favorite people a wrap-up of the trends of 2011! Here they are: The good, the bad, and the omfg what was I thinking*:
Color blocking
I love color. The brighter the better. While mixing bold colors is nothing new, the trend first hit the runways in S/S 09 runway shows. This trend petered out (but didn't completely disappear) towards the end of 2011, mostly because tangerine, coral, and teal aren't big fall colors. Marc Jacobs is the designer who comes to mind when thinking of the color blocking trend -- And who doesn't love Marc Jacobs?!
Verdict:

G

o

o

d -- Just keep it

simple,

sassy,

and

classy

if you carry this trend into the new year. But proceed with caution. No one wants to be a fashion victim!
Harem pants
Like many undesirable things in this world, I blame Kim Kardashian for this bottom half disaster. Why would ANYONE want their hips to look wider, thighs to look gigantic, and butt to look like it's sagging to their knees?! And to cover them with sequins? These poor excuse for pants are a cardinal fashion sin best left for MC Hammer in 1990.
Verdict: omfg what was I thinking (*note I never ever partook in these baggy butt calamity. I cross-my-heart-promise.)
Capes
I'm just going to say it now: I LOVE CAPES! I have two chunky knit capes from J. Crew and one trench-style cape from Banana Republic that I'm head over heals for. I just have one qualm: I'm an oversized handbag girl which makes wearing a cape and toting a huge tote super awkward. So, if I want to wear a cape, I have to downsize the purse -- Well worth the effort, IMO. Just don't pull a Katherine Heigl and wear shorts and leopard booties with a cape. A cape is a wide and flowy statement piece so k
eep the bottom slimming and simple.
Verdict 1 - Capes: Good, but be sure to follow the rules.
Verdict 2 - Capelets: Bad. No one should look like they shopped in the toddler's section. It isn't Halloween and there has never been an Eddie Munster trend so go for a full-length cape.
OWLS!
OWLS! THEY'RE EVERYWHERE! SAVE YOURSELF! Ok, so I've mixed references to both Tommy Boy and The Birds but in 2011, owls were everywhere. Most were cute and cartoon-ey and could be found both on HSN and in Forever 41. My rule with this one should you bring the birds with you into the next year (as with most trends): don't spend a lot on owl stuff and make sure it's age-appropriate. Granted, I'm 28 and typing this in a Hello Kitty tee so I'm not really one to talk, but dress your age when you leave the house and keep the owls on the smaller side.
Verdict: I'm not going to say the bird (specifically owl) trend is bad, but it's not necessarily good. It's just overplayed. A huge bejeweled owl on a tee? Skip it. A small accessory? Go for it.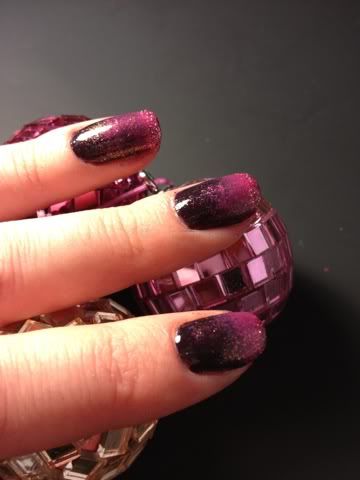 Photo courtesy Me!
I feel like ombre is a combination of a few trends: Neon, color blocking, and boho chic. The "I try really hard to look like idgaf" boho attitude fueled the tousled grown out roots hair. The bright colors involved in color blocking and neon made shades of every color under the rainbow a perfect fashion statement. Ombre was the perfect sunny casual way to dress for the weekend.
Verdict 1: Ombre hair: Bad. It's reached The Hills and back.
Verdict 2: Clothes: Good -- With a caveat: Ombre is not to be confused with tie-dye.
Verdict 3: Nails: Good. See my nail tutorial :)
Neon everything
Kimmy Gibbler had the market cornered on neon in the 90's. That should be a red flag right there. While fine in moderation and on the runway, neon can scream Jersey Shore if you aren't careful. Like the owl trend, I hope no one went overboard by spending $2,000 on a neon anything. Neon packs a punch so if you carry this trend into 2012, don't put together an ensemble that would knock out Pacquiao.
Verdict: Bad, verging on omfg what was I thinking?
Jumpers and rompers
Babies and toddlers wear rompers. Jumpers are for Catholic grade school uniforms. 'Nuff said. While 2011 brought some decently cute jumpers and rompers, the majority looked like prison jumpsuits, camel toe disasters, and '80s power suits. This leads me to another onesie issue: the bathroom. Do you limit your fluid intake for the day so you don't have to completely disrobe every time you "go?" Ok, enough of that. I hope you romper rompers wore outfits that fit -- And wore them on appropriate outings. Nothing says "I don't belong here" like a romper at the office. This trend was best left to teens, tweens, and skinny minnies.
Verdict: omfg what was I thinking? (Unless you fall into one of the three above categories).
Hairy scary spider lashes
Yet another Kardashian curse brought upon us. While most of us pine for longer lashes, and even risk turning our blue eyes brown for them, longer than life faux lashes made their presence known. In 2011, they weren't just for drag queens anymore!
Verdict: Drag queens, keep rocking those lashes. Everyone else, stick to the real deal. Find a good eyelash curler (Shu Umura is the greatest of the great, imo) and a fantastic mascara (I use Fusion Beauty but I feel like everyone has their own favorite. Find your favorite and give your lashes a good base-to-tip coating). Put your little furry caterpillars away until your birthday and Halloween.
Geek chic
Being "adorkable" like my girl Zooey D was huge in 2011. Marked by thick eyeglass frames and some hipster gear (think I want to look like I don't care what I look like but I really really do). I have to admit that I love the geek chic and hipster look.
I could do without the 'tude, but I love the hats, ties, glasses, and other accessories.
I like it better on guys than on girls, though. There's something about hipster girls and a lack of tailoring. I can't really put my finger on it.
Zooey Deschanel and Ryan Gossling (and his hipster goggie!) were 2011's geek chic/hipster pioneers. It looks like this trend is here to stay, too. As long as there are great bands you've never heard of, Whole Foods, Vespas, and vintage shops, hipsters are here to stay.
Verdict: Good. Just keep it tailored, clean, and fun. And easy with the attitude.
So there you have it! I know I've only listed a few 2011 trends (sailor chic = good, bandage dresses = bad, anything Jersey Shore = omfg what was I thinking). Here's to a great 2012! I hope the new year brings each of you fashion, passion, and oodles of happiness!!
*I have decided the only person who can pull off any and all of these trends is Gwen Stefani. Even harem pants.
xoxo and HAPPY NEW YEAR!
Melissa, your very own Shop Therapist